March 9, 2017
(Mac App) How To Use Tweak Photos – Batch Image Editing Made Easy (macOS app Review, tutorial)
When you got many photos to edit, repeating the same thing would be involved. Don't waste your time doing the same process over and over. Tweak Photos can do batch image processing to a ton of photos at once. For example, resizing photos to upload on the Internet, Cropping to 1:1 image ratio, watermarking on photos, renaming the filenames and so on.
Features
What Tweak Photos can handle:
Converting image formats to and from JPEG, TIFF, GIF, PNG, JP2, JPG, BMP
Renaming image files according to your own rule
Resizing the pixel dimensions of photos as you specify
Resizing photos based on percentage.
Auto-correcting orientation
Rotating and flipping photos
Cropping photos: Free Form and popular aspect ratios.
Custom Enhancement: Brightness, Sharpness, De-nosing, Contrast, Opacity, RGB adjustment
Filter Effects: Sepia, Black & White, Vignette, Lighting, Grunge texture
Adding watermark: Your text, images, stickers, Date and Time stamp
Framing: custom borders and photo frames.
You can do layering all Batch Effects above so that you can experiment with your pictures and make a unique photo effect. Next, let's look at the workflow.
(macOS App) Image Batch Processing: Tweak Photos - Batch Image Editing Made Easy
*Disclaimer Notice: The price on the store may be different from when this article was posted. Always check yourself before purchase.
App Store Screenshot Images of Tweak Photos - Batch Image Editing Made Easy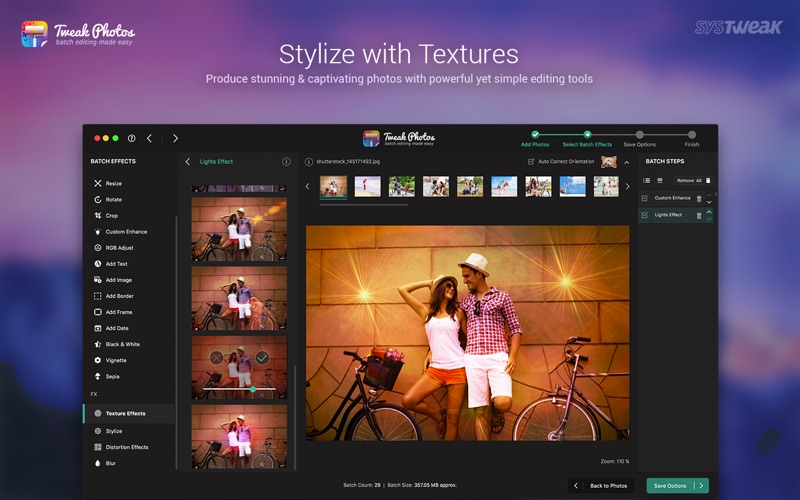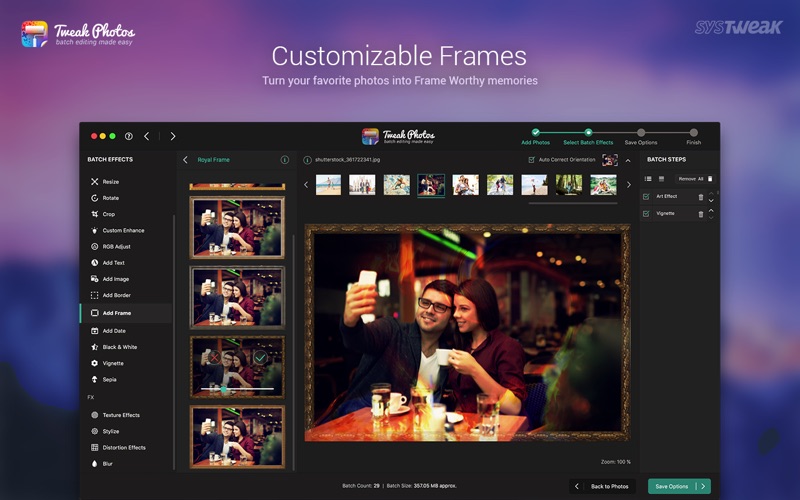 Add Your Photos
Drag & Drop and ADD FOLDER
You can drag and drop your photos onto the big plus button in the center:
You can also click the plus button to open Finder. However, I recommend you to do it with the ADD PHOTOS button if you are selecting your photos through Finder opened in Tweak Photos because you can only see the Media section for your Photos Library that way. I'll explain this very soon.
Getting Photos in Time Range
Clicking ADD WITH FILTER button lets you set a time period:
Photos only for that time period will be added after you select a folder.
Adding Photos from Photos.app
You already notice there's ADD iPHOTO/PHOTOS LIBRARY button on the bottom right. This button lets you select your .photoslibray file, which is the Library file of macOS' default Photos app. I suggest never using this button because ADD iPHOTO/PHOTOS LIBRARY imports all photos inside your Photos app. I realized this is insane when 5GB of my all photo had been already copied. Thankfully, there is the STOP button.
To add photos inside Photos.app, click ADD PHOTOS button to open Finder:
After clicking Photos in Media section of the sidebar, It loads up with your Photos Library on the right. you can see all your albums and photos just like you organized in Photos.app. Now you can choose photos you want from it.
Examining, Adding More or Removing Photos
After adding photos, all imported photos are showing like below. You can except any by right-clicking the thumbnails of selected photos if you don't want it. Or add more with Add More Photos button:
You can see brief information of the photos on thumbnails or more info through i buttons as shown above. You can even open the photo in Preview.app If you need to view it bigger by right-clicking > Open in Preview.
When you are done with your decision, click Select Batch Effects button to continue to the next step.
Preview and experiment with Batch Effects
There are 4 sections like below in BATCH EFFECTS. I have divided it as A to D for you:
All effects you can choose are in the A section on the left and contextual tools will appear in B depending on which effect you have chosen. Section C is a preview pane and you can switch between photos by selecting from the small thumbnails. you can zoom-in and out with your mouse wheel. And lastly, D is something like a layer panel. Every effect you add piles up on this panel.
Please look at the image below. This is the procedure adding and layering effects:
(A): First select an effect you want. (B): Adjust details and click Add Effect button if you like it. The effect will be added as a layer in D section.
Above image's showing that I added Distortion> Vortex1, Stylize>Pointillize, Vignette. And Add Border effect is about to added. The layers can be re-ordered, turned off or removed. Click Save Options button in the bottom right corner when you are ready.
Save Options
Before processing your photos, you can set some settings like Destination Folder, Moving or Copying, and Renaming files:
(B) You need to determine where you save the newly processed photos. (A) you can choose whether remove the original photos or just make copies of them. (C) Opening the output folder and setting Date and Time in meta data would be convenient. 
On the left, you can convert file format and apply your rule for file names
Convert File Format
To convert the file format other than original, choose one from the pop-up. JPG format is preferred when sharing photos because its file size can be smaller to transfer:
Naming files
If you want new file names for the new photos, select Edit Original File Name:
Starting with Replace Filename, you can add Date/Time, letters and auto-increment number as a prefix and suffix.
When you are all set, click Start Process > Yes to start the process:
New photos will be saved in the destination folder you specified when finished.
That's the workflow using Tweak Photos app. We will next take a look at what effects can be added while we do BATCH EFFECTS.
More details on Effects
Resize: You can change the pixel dimensions in Pixels or Percents specifying Width and Height:
Crop: After specifying Aspect Ratio, you can adjust the area with your mouse pointer or specific numbers. 1:1 ratio would be good to share on Instagram:
Custom Enhance and RGB Adjust: the basic adjustments can be set with sliders:
Add Text: Add Text button adds a text box. You can change its Font Family, Size and Color. Add Effect will add your text as a layer and then you will be able to add another text box:
Add Image: There are some pre-supplied stickers. But I think you prefer to add your own images. Click Add Image button to pick yours in Finder. This is the way to add your own watermark image and you got rotating, flipping your photo and adjusting its opacity in control:
Add Date: Add Date button adds time stamps on each photo. You don't have control of changing the date other than choosing the original or current date:
There are some other effects like adding border and frame, Black& White, Vignette, Sepia. 
 Although I got stylized filters in FX section, I don't feel like using them for batch processing. Here are only 6 out of 24 you might be interested in:
I am Kyle Kim at StarryReviews.com. Please stay tuned with upcoming posts. Follow me @StarryReviews on Twitter or Facebook Page.