February 26, 2017
[macOS App Review] Desktop weather widget that sticks onto wallpapers: Weather Widget: Desktop forecast Pro
People have been looking for the best weather app for thier Macbook, iMac, iPad even for tiny smart phones like iPhone. It is not the first time or end of the story. People will keep looking for it. I am definitely one of them. I don't say I have finally found the best but I like Weather Widget I am going to review today and hope it is tempting to you as well.
Weather Widget: Desktop forecast Pro always stays on your macOS' Desktops and lets you up to date with local or remote weather conditions. How many weather apps out there? - Thousands maybe.  But weather widgets sticking on your wall-papers,which are not click-able, are not that many. Weather Widget is one of the rares and it blends naturally into your wallpapers on macOS.
Lite version of Weather Widget has only 4 themes and forecast for upcoming 3days. 
(Lite Version) Weather Widget: Desktop forecast Mac App Store
Mac App: Weather Widget: Desktop forecast Pro for your iMac and Macbook
*Disclaimer Notice: The price on the store may be different from when this article was posted. Always check yourself before purchase.
App Store Screenshot Images of Weather Widget: Desktop forecast Pro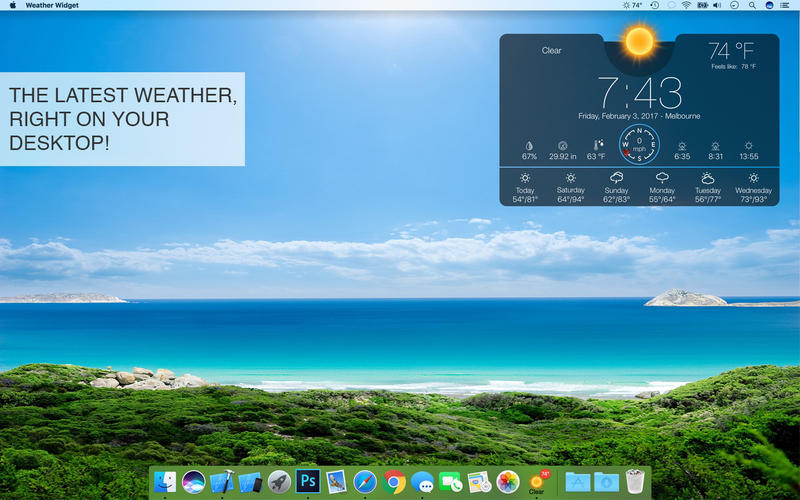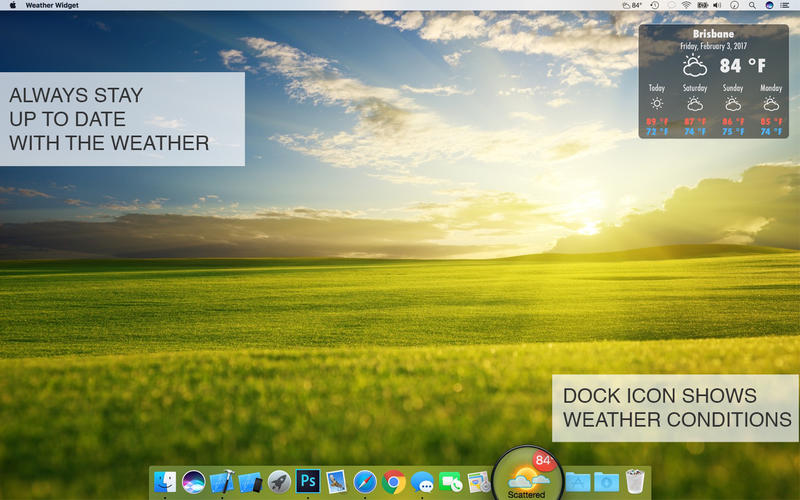 The Icons Display Current Weather Summary
The dashboard window displays a little more weather information for each day -High/Low tempertures and short and brief summaries so that you can look at the weather forecast for the week easier. 
However, you would not need to open the dashboard window for every day weather conditions because they are everywhere as long as the app is running behind. Let me list what the icons of Weather Widget: Desktop forecast Pro provide us:
Desktop forecast widget 
System Status Bar(Menu Bar) icon
Dock icon
All of above indicates current weather condition and temperture. And additionally,
The widget displays forecast for the week.
The Status Bar also shows forecast for the week when clicked.
The Dock icon presents the dashboard window when clicked.
The Desktop Widget Customization and Themes
Everyone has thier taste when it comes to look and feel of UI design. We get several choices of thems for the sticky widget on Desktop:
Did I tell you the weather icons animate as well? You can turn it off if you prefer to do so on the Preferences pannel of the app. To customize the widget, Go to Preferences > Desktop tap, you will be able to change the theme at the Style item. Sleek, Small, Minimal, Modern, Tiny, Flip Clock, Vivid themes are avaiable as well as None.
Other customization like Size,Opacity, Time, Clock Format gives you visually appealing weather widget experience. To change the positon of the widget on your desktop wallpaper, hit the Click & Drag button. Click Save when you done positioning.
Dock Icon can be changed too. You can choose the text color and background color of weather summary and what to display on the badge -Temperture, Feels Like and Wind:
Worldwide Location Support and Other Settings
At start, the weather information is based on your current location if you allow Weather Widget to know where you are. but you are also able to set manually by finding the name of the city your want mornitor. To do that, go to Preferences > Weather tap and type the name of city on zip code in the Find new loacation text field. So basically this app supports worldwide locations:
There are other settings. Something like Start at login and Hide icon in dock are what we normally expect from macOS app, but Enable Show Desktop and Hot Corner for an app might be a bit surprise: